GV-N108TAORUS-11GD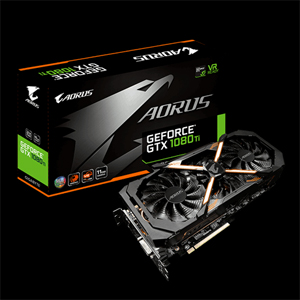 Features
Powered by GeForce® GTX 1080 Ti
Integrated with 11GB GDDR5X 352-bit memory interface
WINDFORCE Stack 3X 100mm Fan Cooling System
Advanced Copper Back Plate Cooling
AORUS VR Link provides the best VR experience
RGB Fusion – 16.8M customizable color lighting
Protection Metal Back Plate
Built for Extreme Overclocking 12+2 Power Phases
Core Clock
Boost: 1708 MHz / Base: 1594 MHz in OC mode
Boost: 1683 MHz / Base: 1569 MHz in Gaming mode
(Reference Card Boost: 1582 MHz / Base: 1480 MHz)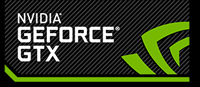 Ultimate GeForce
The GeForce® GTX 1080 Ti is NVIDIA's new flagship gaming GPU, based on the NVIDIA Pascal™ architecture. The latest addition to the ultimate gaming platform, this card is packed with extreme gaming horsepower, next-gen 11 Gbps GDDR5X memory, and a massive 11GB frame buffer.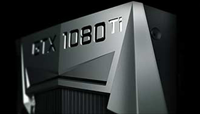 Performance
The GeForce® GTX 1080 Ti is the world's fastest gaming GPU. 3584 NVIDIA® CUDA® cores and a massive 11GB frame buffer deliver 35% faster performance than the GeForce GTX 1080.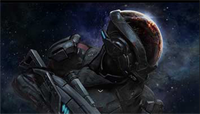 NVIDIA Pascal
GeForce GTX 10-Series graphics cards are powered by Pascal to deliver up to 3X the performance of previous-generation graphics cards, plus breakthrough gaming technologies and VR experiences.
VR Ready
Discover next-generation VR performance, the lowest latency, and plug-and-play compatibility with leading headsets-driven by NVIDIA VRWorks™ technologies. VR audio, physics, and haptics let you hear and feel every moment.
AORUS PERFORMANCE
AORUS graphics cards are crafted for perfection in pursuit of the ultimate graphics experience for gaming enthusiasts. Based on the revolutionary NVIDIA® Pascal™ GPU architecture, AORUS graphics card brings you incredible gaming experience.
- Pascal-powered graphics card give you superior performance and power efficiency
- Support up to 8K display @60Hz
- Outstanding performance for Virtual Reality gaming
aorus All-around cooling solution
AORUS provides the all-around cooling solution for all key components of the graphics card. We take care not only GPU but also VRAM and MOSFET, to ensure a stable overclock operation and longer life. On the front side, the large copper base plate dissipates the most heat from the GPU and VRAM. On the back side, the copper back plate dissipates the heat from the GPU back side. All other key components are taken care of very well by the WINDFORCE cooling module. AORUS ensures the customer a better cooling solution in many ways.

Large Copper Base Plate
With direct contact to the GPU and VRAM, the large copper base plate combines the composite heat pipes to efficiently transfer heat generated from the interior cores to the heat sink.

AORUS COOLING
WINDFORCE STACK COOLING SYSTEM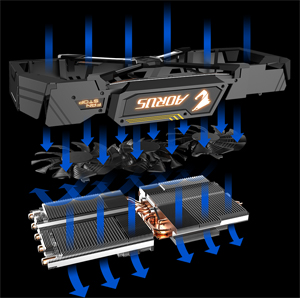 Windforce Stack
All new WINDFORCE Stack cooling with 3X 100mm fans in an innovative stacking structure for enhanced heat dissipation.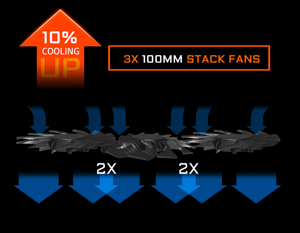 3X 100mm Fans
The 3x 100mm stack fans provide larger and more smooth airflow. And with more heatsink coverage than 3x 80mm fans, WINDFORCE stack fans will have 10% better cooling performance.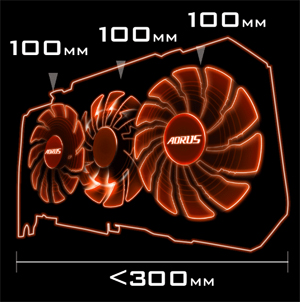 < 300mm
Make 3x 100mm stack fans into less than 300mm length area. To concentrate and enlarge the airflow on the whole heatsink for the most efficient heat dissipation.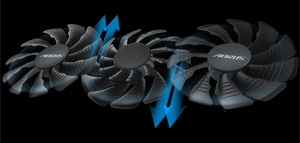 ALTERNATE SPINNING
The middle fan spins in the reverse direction to optimize the airflow to dissipate the heat more effective for accomplishing higher performance at a lower temperature.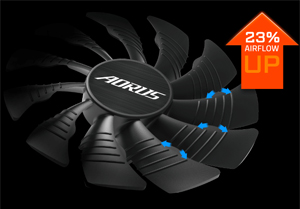 Unique Blade Fan
The airflow is spilt by the triangle fan edge, and guided smoothly through the 3D stripe curve on the fan surface, effectively enhancing the airflow by 23% over the traditional fans.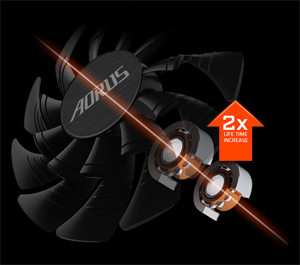 Double Ball Bearing
The double ball bearing structure has better heat endurance and efficiency than sleeve structure.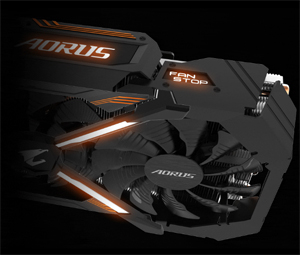 3D ACTIVE FAN
The AORUS graphics cards are equipped with 3D-Active Fan. The fans will remain off when the GPU is under a set loading or temperature for low power gaming. The LED fan indicator on the top of the graphics card provides an instant display of the fan status.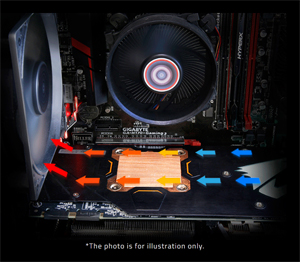 The Stripe Matters
With the better system airflow, the direction of the copper plate will help to increase the cooling performance.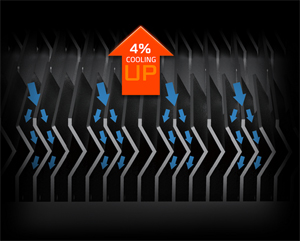 ANGULAR FIN DESIGN
The angular and unequal fins height does not only channel the airflow through the fins and enlarge the contact surface but also results in a lower noise level and better cooling capacity.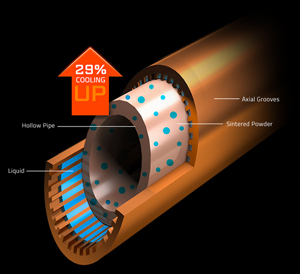 COMPOSITE HEAT-PIPES
The composite heat-pipes combines both thermal conductivity and phase transition for efficiently managing the transfer of heat between two solid interfaces which increases 29% of cooling capacity.
AORUS OUTLOOK

RGB FUSION
With 16.8M customizable color options and numerous lighting effects, you could now choose the right scheme for your gaming rig through AORUS graphics engine.

CYCLING
Smoothly cycles through all colors

CONSISTENT
Choose a color for static light

FLASH
Choose a color for flash effect

DUAL FLASH
Choose a color for double flash effect

BREATHING
Choose a color to fade in and out
AORUS VR LINK
SO EASY TO VR
AORUS VR Link features 1 extra front-facing and 2 rear HDMI ports, letting you connect a VR device and up to 2 HDMI monitors at the same time without having to swap cables, so you can flexibly set up a display configuration that best fits your gaming needs.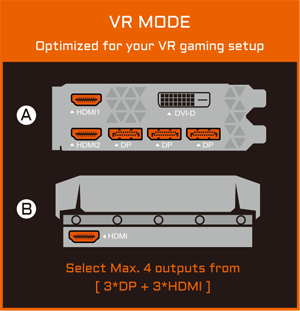 MULTI DISPLAY CONFIGURATION SUPPORT
AORUS VR Link is the only output technology in the market that supports the following combinations of displays without any adaptors required. (VR Headsets are connected via HDMI)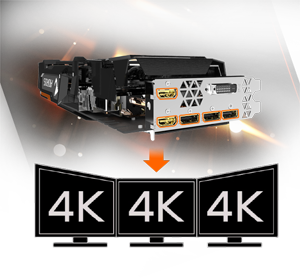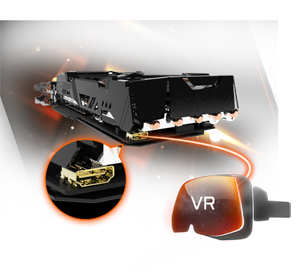 AORUS EXCELLENCE
PREMIUM BUILD IN EVERY ASPECT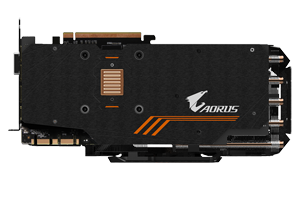 Protection Metal Back Plate
Glorious black metal back plate provides the solid protection, strengthens the structure and inspires the passion for gaming.

AEROSPACE-GRADE PCB COATING FOR BEST PROTECTION
Dust -resistant shields the circuit board from dust, insects, dropped screws, drill shavings, and abrasion.
Moisture-resistant prevents unwanted conduction paths and board damage.
Corrosion-resistant protects boards from environmental contaminants, such as salt spray, humidity, and corrosion.
*The photo is for illustration only.
LED POWER INDICATORS TO SHOW IF THE PCI-E VOLTAGE FROM PSU IS STABLE
Be alert when PCI-E voltage is unstable with the smart power LED indicators. When experiencing any power abnormality, the indicator will alert gamers by flashing light.
*The photo is for illustration only.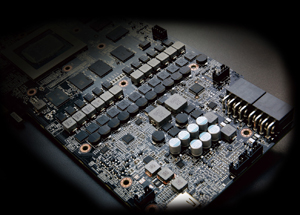 BUILT FOR EXTREME OVERCLOCKING WITH 12+2 POWER PHASES
Compared to the reference design, the 12+2 power phases on the card make the MOSFET working at a lower temperature and provide more stable voltage output. Over temperature protection and load balance to each MOSFET can effectively extend the card life.
TITAN X-GRADE CHOKES AND CAPACITORS FOR EXTREME DURABILITY
AORUS Graphics Cards are engineered with the same highest-grade chokes and capacitors as those of Titan X, delivering high quality performance and longer system lifespan.
Boost Game Performance via SLI Technology
Supports for 2-way SLI configuration, AORUS SLI HB(High Bandwidth) bridge doubles the available transfer bandwidth bridge compared to the previous generation to deliver ultimate experience at 4K gameplay or surround gaming. The AORUS SLI bridge features 16.8M customizable color lighting and numerous effects, you could also synchronize the lighting with the graphics cards through AORUS Engine utility.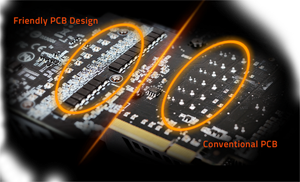 FRIENDLY PCB DESIGN THANKS TO FULLY AUTOMATED PRODUCTION PROCESS
Fully automated production process ensures top quality of the circuit boards and eliminates sharp protrusions of the solder connectors seen on the conventional PCB surface. This friendly design prevents your hands from getting cut or inadvertently damaging components when making your build.
AORUS GRAPHICS ENGINE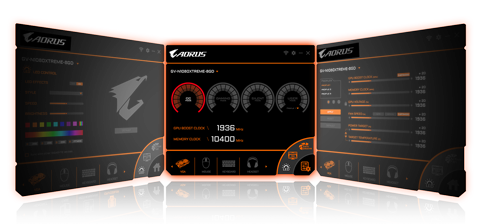 Clock speeds, voltage, fan performance, power target can be monitored and tuned in real-time according to your own preference through this intuitive interface.
(*The interface and functionality of the software is subject to each model.)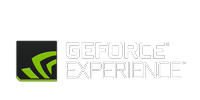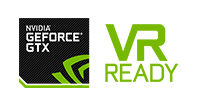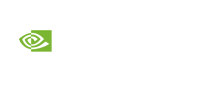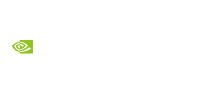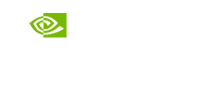 Nuestra empresa requiere que usted esté en conocimiento de las políticas de venta, servicio técnico y validez de garantía para armado de equipos, partes y piezas, test, configuraciones, manejo y precauciones de los procesadores OEM.



Todas las garantías se centralizan en el Servicio Técnico ubicado en Av. Salvador Nº 465 Providencia, teléfono 2236750. El horario de atención es solamente de Lunes a Viernes de 10:00 a 13:00 y 14:00 a 17:00 hrs.

Es de responsabilidad exclusiva del cliente presentar la boleta y/o factura de venta, más la presente póliza firmada, asimismo, deberá conservar todas las cajas de embalaje originales, para cualquier tipo de cambio, de lo contrario el producto no podrá ser recibido.

Todos los productos recibidos por garantía deben ser revisados por el Servicio Técnico.

El diagnóstico de un equipo, recibido por garantía, se entrega en un plazo mínimo de 48 hrs.

El diagnóstico de partes y piezas, recibidas por garantía, se entregará en un plazo mínimo de 24 hrs.
Como dato anexo, todos los productos que T Y T Chile SPA pone a su disposición no son abiertos en ningún momento (excepto productos OEM, OpenBOX, y aquellos que se señalen en la tienda). En otras palabras, TTChile vende productos sellados y tal como los recibe del fabricante(s) y/o proveedor(es), así evitando su modificación y asegurando máxima confiabilidad al cliente.
6.-La empresa T Y TCHILE SPA. , no se hace responsable por daños, robos o pérdidas parciales o totales de la carga durante el transporte de la carga hasta el destinatario por lo que el cliente debe escoger la empresa de encomiendas que le de mayor confianza.
TT Chile dispone de un departamento de servicio Técnico especializado en las tecnologías actuales, este atiende de lunes a viernes en los siguientes horarios:
Mañanas: 10:00 a 13:00 horas.
Tardes: 14:00 a 17:00 horas.
Además de velar por una correcta y oportuna atención a nuestros clientes, nuestro servicio técnico ofrece los siguientes servicios:
Instalación de sistema de agua (WaterCooling) $ 30.000.-
Armado Equipo completo MID TOWER $ 15.000.-
Armado Equipo completo FULL TOWER $ 20.000.-
Instalación de Sistemas Operativos y Software* $ 20.000.-
* La instalación no contempla la licencia del software a instalar, por lo que el cliente debe facilitarla.
Si el equipo esta dentro de las causales de garantía el cobro de reparación es cero, independiente del tiempo empleado.
Si la falla o desperfecto que presente el producto es de responsabilidad del cliente se cobrarán los siguientes valores:rn
Revisión e instalación por pieza sin desmontar gabinete $ 5.000.-
Revisión e instalación por pieza desmontando gabinete $ 10.000.-
1.- Realizar un depósito o transferencia en una de nuestras Cuentas Corrientes:
BANCO SANTANDER N° 03-71884-0,en efectivo a nombre de MARCO TRONCOSO
BANCO SANTANDER N° 73237238 , en efectivo a nombre de TYT CHILE SPA
BANCO ESTADO CHEQUERA ELECTRONICA N° ,

211-7-003855-7

en efectivo a nombre de MARCO TRONCOSO
2.- Enviar al correo electrónico de lissette@ttchile.cl
Fotocopia / Escaneo del comprobante de depósito
Detalle del (los) artículo(s) que se está(n) comprando
3.- Indicar si es factura o boleta:
Factura:

Fotocopia RUT de la empresa
Giro
Dirección
Nombre
Teléfono



Boleta:

Nombre del cliente
Teléfono de Red fija
Dirección y Ciudad
4.- Tipo de envío
TUR-BUS por pagar a domicilio ó a sucursal.

La empresa T Y T CHILE SPA , no se hace responsable por daños, robos o pérdidas parciales o totales de la carga durante el transporte de la carga hasta el destinatario por lo que el cliente debe escoger la empresa de encomiendas que le de mayor confianza.