Radeon™ RX 5600 XT WINDFORCE OC 6GGV-R56XTWF2OC-6GD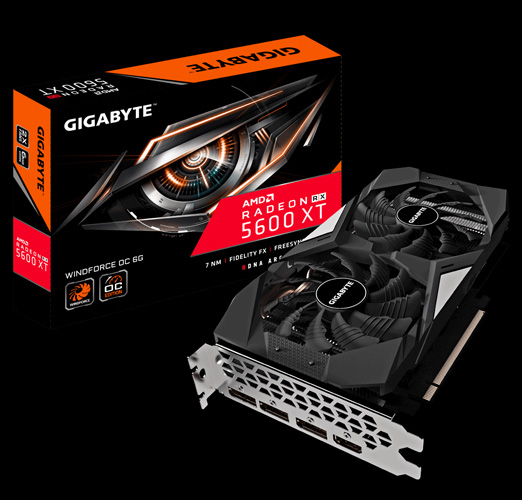 Features
Powered by AMD Radeon™ RX 5600 XT
Integrated with 6GB GDDR6 192-bit memory interface
WINDFORCE 2X Cooling System with alternate spinning fans
Protection Back Plate
PCI-Express 4.0 Support
Core Clock
Boost Clock : up to 1620 MHz
Game Clock* : 1460 MHz
WINDFORCE 2X COOLING SYSTEM
The WINDFORCE 2X cooling system features 2x 90mm unique blade fans, alternate spinning fan, 2 composite copper heat pipes, heat-pipe direct touch and 3D active fan functionality, together delivering an effective heat dissipation capacity for higher performance at lower temperatures.
ALTERNATE SPINNING
The GIGABYTE "Alternate Spinning" is the only solution that can solve the turbulent airflow of adjacent fans. Since the adjacent fans rotate in the same direction, the airflow direction is opposite between the fans, which will cause turbulent airflow and reduce heat dissipation efficiency. GIGABYTE turns the adjacent fans in the opposite direction, so that the airflow direction between the two fans is the same, reducing the turbulence and enhancing the airflow pressure.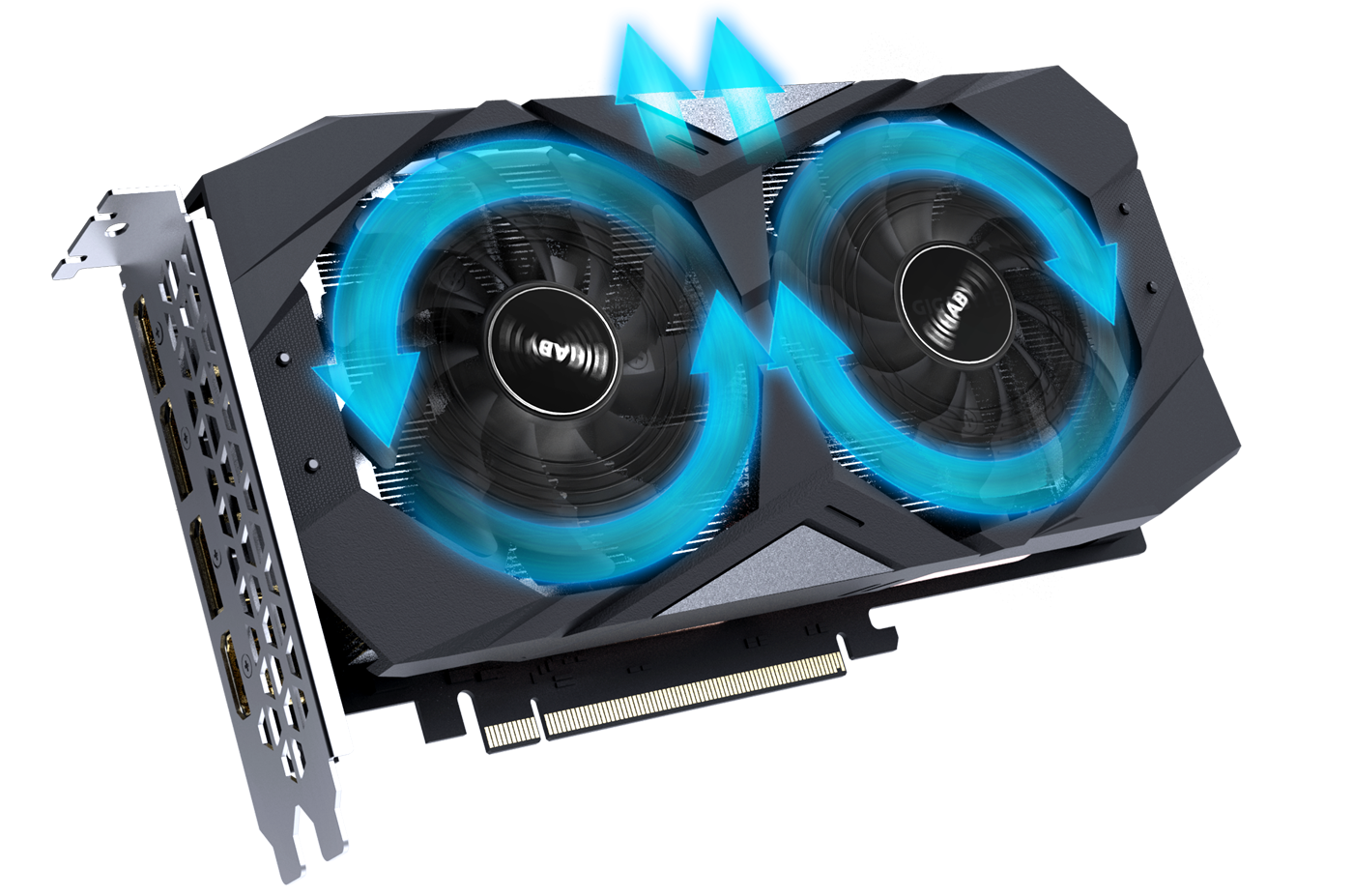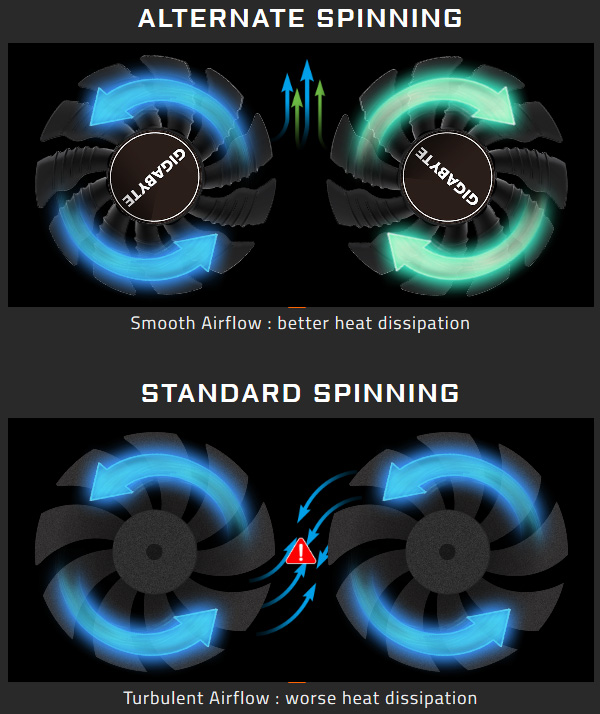 UNIQUE BLADE FAN
The airflow is spilt by the triangular fan edge, and guided smoothly through the 3D stripe curve on the fan surface, effectively enhancing the airflow.
3D ACTIVE FAN
The 3D Active Fan provides semi-passive cooling, and the fans will remain off when the GPU is in a low load or low power game. It allows gamers to enjoy gameplay in complete silence when the system is running light or idle.

HEAT PIPES DIRECT TOUCH GPU
The shape of the pure copper heat pipes maximize the direct contact area with the GPU, enhancing heat transfer. The heat pipes also cover the VRAM through a large metal plate contact to ensure proper cooling.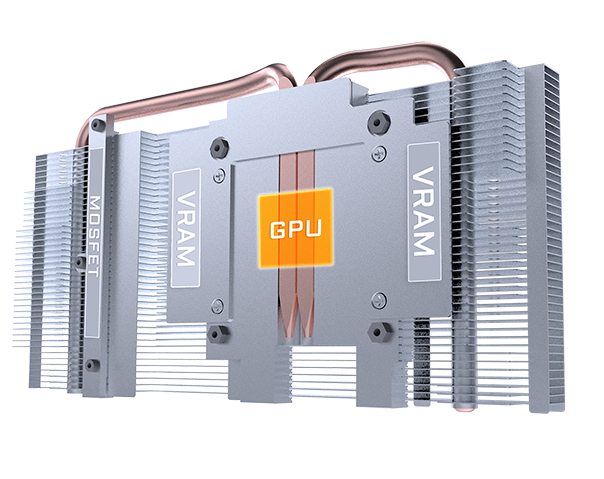 COMPOSITE HEAT-PIPE
The composite heat-pipe combines thermal conductivity and phase transition to efficiently manage the heat transfer between two solid interfaces which increases cooling capacity.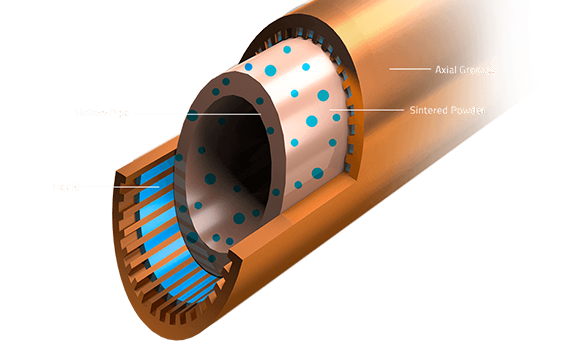 BUILT STRONG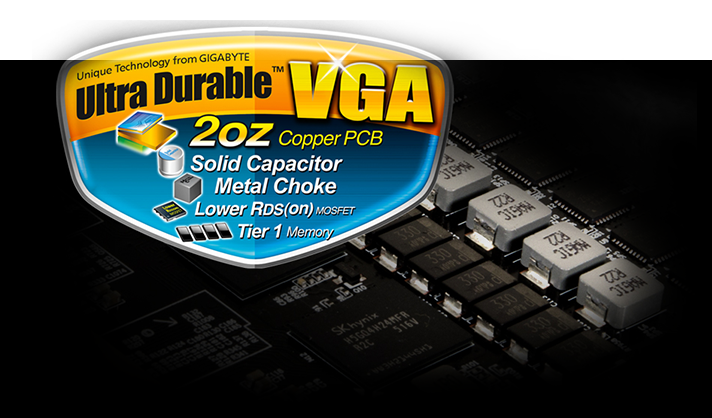 EXTREME DURABILITY AND OVERCLOCKING
The graphics card uses 6+1 power phases design to allow the MOSFET to operate at lower temperature, and over-temperature protection design and load balancing for each MOSFET, plus the Ultra Durable certified chokes and capacitors, to provide excellent performance and longer system life. (Reference card is 5+1 power phases.)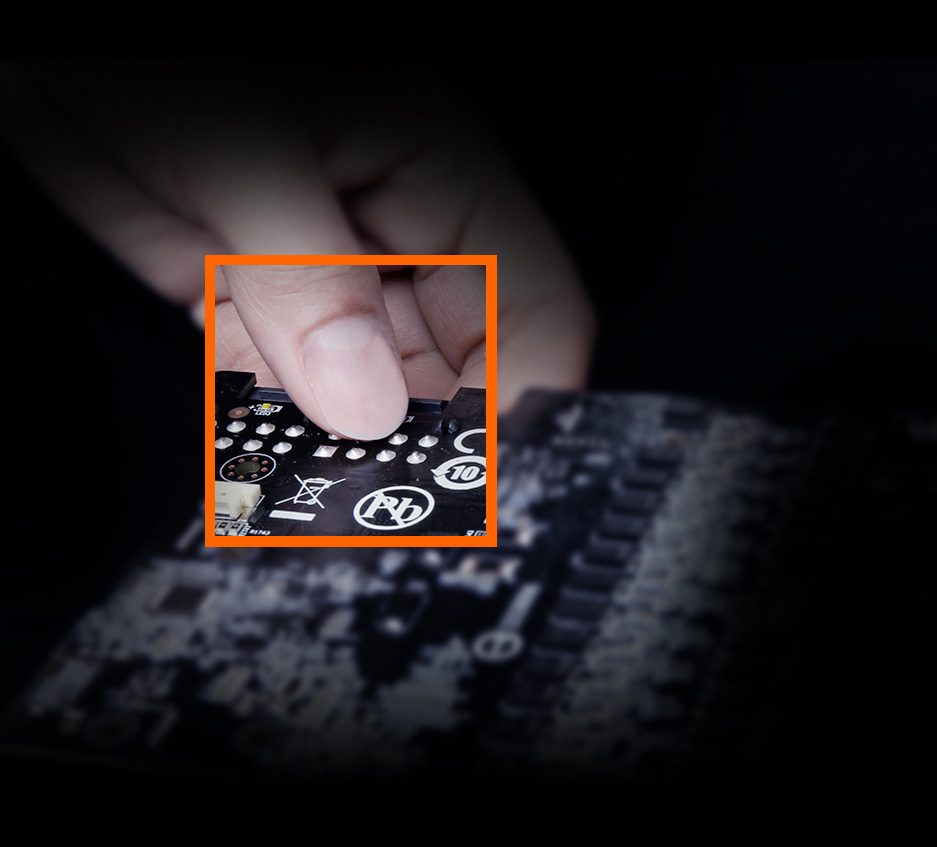 FRIENDLY PCB DESIGN
Fully automated production process ensures top quality of the circuit boards and eliminates sharp protrusions of the solder connectors seen on the conventional PCB surface. This friendly design prevents your hands from getting cut or inadvertently damaging components when making your build.
POWER INDICATOR
The smart power LED indicator alerts the player when any PCI-E power supply is abnormal.
Light on: power cable disconnected
Light off: stable power supply
Blinking: abnormal power supply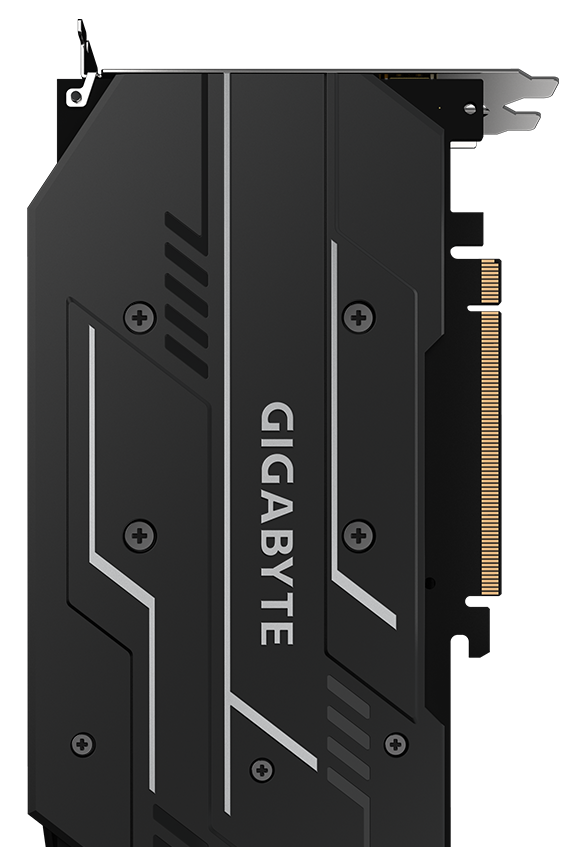 PROTECTION METAL BACK PLATE
The metal back plate not only provides an aesthetical shape, but also enhances the structure of the graphics card to provide complete protection.
PCI-E 4.0 SUPPORT
Gigabyte Radeon RX 5600 XT features PCI-Express 4.0 support, with a throughput of 16 GT/s and enables two times the bandwidth compared to PCI Express 3.0. With the PCI-Express 4.0 supported motherboard, and get ready for the next generation of PC gaming.
IN TOTAL COMMAND
The interface and functionality of the software is subject to each model.
AORUS ENGINE
The cutting edge intuitive interface allows you to adjust the clock speed, voltage, fan performance and power target in real-time according to your game's requirements.
EXTREME GAMING DNA
The AMD Radeon™ RX 5600 XT graphics card is designed for the ultimate 1080p gaming experience. Turn up your settings for higher fidelity and boost gaming performance for higher frame rates with ultra-fast response times. Get the power of the highly acclaimed RDNA architecture, the heart of AMD's advanced 7nm technology process, as well as GDDR6 high-speed memory and PCI® Express 4.0 support, delivering a highly responsive, ultimate 1080p gaming experience.

GAME FIDELITY, ACCELERATED
The AMD Radeon™ RX 5600 XT graphics card powers high-fidelity gaming for immersive explosions, physics, and lighting effects, bringing realism to life. The RDNA architecture was engineered to greatly enhance features like FidelityFX, Radeon™ Image Sharpening, and Integer Display Scaling6 for maximum performance and beautiful gaming experiences.

RADEON™ IMAGE SHARPENING
Radeon Image Sharpening combines contrast-adaptive sharpening with GPU upscaling to deliver crisp and detailed looking visuals with virtually no performance impact.4 Now with DirectX® 9, 11, and 12 support.

INTEGER DISPLAY SCALING
Play classic games and relive the retro experience by scaling on-screen images from one pixel to four pixels (or more) to deliver a retro-like visual gaming experience.

AMD RADEON™ SOFTWARE ADRENALIN 2020 EDITION


Nuestra empresa requiere que usted esté en conocimiento de las políticas de venta, servicio técnico y validez de garantía para armado de equipos, partes y piezas, test, configuraciones, manejo y precauciones de los procesadores OEM.



Todas las garantías se centralizan en el Servicio Técnico ubicado en Av. Salvador Nº 465 Providencia, teléfono 2236750. El horario de atención es solamente de Lunes a Viernes de 10:00 a 13:00 y 14:00 a 17:00 hrs.

Es de responsabilidad exclusiva del cliente presentar la boleta y/o factura de venta, más la presente póliza firmada, asimismo, deberá conservar todas las cajas de embalaje originales, para cualquier tipo de cambio, de lo contrario el producto no podrá ser recibido.

Todos los productos recibidos por garantía deben ser revisados por el Servicio Técnico.

El diagnóstico de un equipo, recibido por garantía, se entrega en un plazo mínimo de 48 hrs.

El diagnóstico de partes y piezas, recibidas por garantía, se entregará en un plazo mínimo de 24 hrs.
Como dato anexo, todos los productos que T Y T Chile SPA pone a su disposición no son abiertos en ningún momento (excepto productos OEM, OpenBOX, y aquellos que se señalen en la tienda). En otras palabras, TTChile vende productos sellados y tal como los recibe del fabricante(s) y/o proveedor(es), así evitando su modificación y asegurando máxima confiabilidad al cliente.
6.-La empresa T Y TCHILE SPA. , no se hace responsable por daños, robos o pérdidas parciales o totales de la carga durante el transporte de la carga hasta el destinatario por lo que el cliente debe escoger la empresa de encomiendas que le de mayor confianza.
TT Chile dispone de un departamento de servicio Técnico especializado en las tecnologías actuales, este atiende de lunes a viernes en los siguientes horarios:
Mañanas: 10:00 a 13:00 horas.
Tardes: 14:00 a 17:00 horas.
Además de velar por una correcta y oportuna atención a nuestros clientes, nuestro servicio técnico ofrece los siguientes servicios:
Instalación de sistema de agua (WaterCooling) $ 30.000.-
Armado Equipo completo MID TOWER $ 15.000.-
Armado Equipo completo FULL TOWER $ 20.000.-
Instalación de Sistemas Operativos y Software* $ 20.000.-
* La instalación no contempla la licencia del software a instalar, por lo que el cliente debe facilitarla.
Si el equipo esta dentro de las causales de garantía el cobro de reparación es cero, independiente del tiempo empleado.
Si la falla o desperfecto que presente el producto es de responsabilidad del cliente se cobrarán los siguientes valores:rn
Revisión e instalación por pieza sin desmontar gabinete $ 5.000.-
Revisión e instalación por pieza desmontando gabinete $ 10.000.-
1.- Realizar un depósito o transferencia en una de nuestras Cuentas Corrientes:
BANCO SANTANDER N° 03-71884-0,en efectivo a nombre de MARCO TRONCOSO
BANCO SANTANDER N° 73237238 , en efectivo a nombre de TYT CHILE SPA
BANCO ESTADO CHEQUERA ELECTRONICA N° ,

211-7-003855-7

en efectivo a nombre de MARCO TRONCOSO
2.- Enviar al correo electrónico de lissette@ttchile.cl
Fotocopia / Escaneo del comprobante de depósito
Detalle del (los) artículo(s) que se está(n) comprando
3.- Indicar si es factura o boleta:
Factura:

Fotocopia RUT de la empresa
Giro
Dirección
Nombre
Teléfono



Boleta:

Nombre del cliente
Teléfono de Red fija
Dirección y Ciudad
4.- Tipo de envío
TUR-BUS por pagar a domicilio ó a sucursal.

La empresa T Y T CHILE SPA , no se hace responsable por daños, robos o pérdidas parciales o totales de la carga durante el transporte de la carga hasta el destinatario por lo que el cliente debe escoger la empresa de encomiendas que le de mayor confianza.